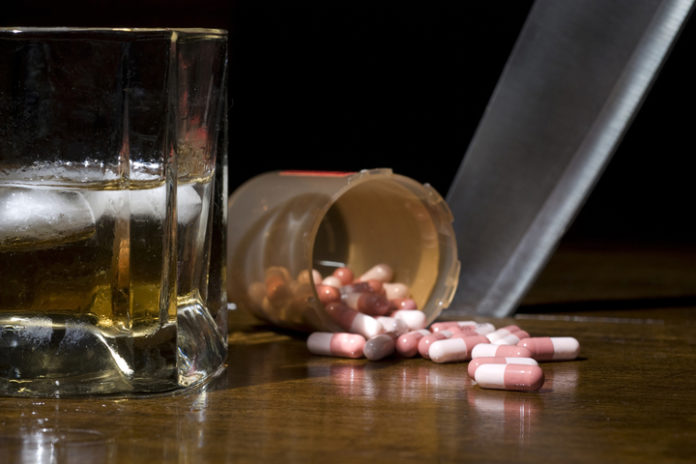 New government data reveals that 2.3 million American adults suffered from both a past-year illicit drug addiction and an alcohol addiction in 2014.
The CBHSQ Report — prepared by the Center for Behavioral Health Statistics and Quality and the Substance Abuse and Mental Health Services Administration (SAMHSA) — also found that 4 of 5 adults with substance use disorder (SUD) had an alcohol use disorder (AUD), almost 3 in 10 had an illicit drug use disorder (IDUD), and 1 in 9 had both an AUD and an IDUD.
"Data on substance use is important as a tool to help us identify what we need to address, where we need to address it, and whether there are specific groups that have different needs from others," said Dr. Kim Johnson, director of SAMHSA's Center for Substance Abuse Treatment.
The report also found that about 20.2 million adults had a past-year SUD in 2014 — of these, 6.2 million had an IDUD and 16.3 million had an AUD.
Advertisement
Additionally, 2.5 million people 18 and older received addiction treatment for illicit drug or alcohol use within the past year — which is about 1 percent of all the adult American population or 7.5 percent of adults with a SUD within the past year that received addiction treatment.
Johnson believes communities can reduce these numbers through coordinated efforts.
"[They] can engage in anti-drug coalitions that work to reduce access to alcohol — the most frequently abused drug — and other drugs through a variety of activities that are related to availability, community awareness, and norms that limit alcohol and drug use," she said. "Most community activities are aimed at young people because that is when most people begin to use."
The paper noted that these data are similar to the rates found from 2010 to 2013. However, the figures were still lower than the percentages found from 2002 to 2009.
"Parents, schools, law enforcement and health care providers can all benefit from knowing how common certain drugs are and what is changing in terms of trends," Johnson said. "Understanding the connection between beliefs about risk and drug use behavior can help parents understand their child's risk and the risk that is posed to their child by living in a community that doesn't believe substance use is harmful."
The researchers believe that carefully watching the trends in substance use disorders will… (continue reading)
Summary
Article Name
Over 2 million were addicted to alcohol and drugs in 2014, gov report
Description
over_2_million_were_addicted_to_alcohol_and_drugs_in_2014_gov_report_720
Author