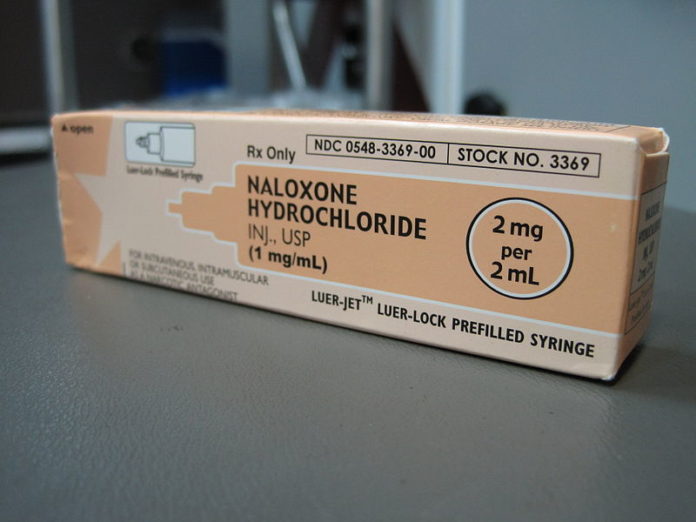 People who suffer with opioid addiction across six states, including California, will be able to receive an antidote to overdose in free naloxone pens through a new pilot program from Kaleo, a pharmaceutical company.
Evzio, a type of naloxone, is an auto-injector that is designed to reverse an opioid overdose. It will also be available in Arizona, Colorado, Missouri, Nevada and Ohio.
Through Kaleo's "virtual standing order" program patients with commercial insurance will call a soon to be available central phone number, talk to a pharmacist, and have Evzio sent to their home
Patients without commercial or government insurance who have a household income of less than $100,000 will be able to get the auto-injector free through Kaleo's patient assistance program.
Advertisement
Kaleo plans to expand the program to other states
Native American tribes, and both federal and state governments can purchase two Evzio auto-injectors directly from Kaleo for $360 a pack
A new study by Kaiser Family Foundation released in April found it cost $2.6 billion to treat opioid addiction and overdoses in 2016. That's a large increase from the $300 million it cost in 2004.
"Naloxone works very similar to the Epipen," said Dr. Gary Tsai, MD, FAPA, FASAM, Medical Director and Science Officer, Substance Abuse Prevention and Control for the County of Los Angeles Department of Public Health.
"The Epipen is for someone who has a serious life-threatening allergic reaction to a bee sting, for example. You can administer it and, within a matter of seconds or a minute, you reverse that life-threatening event."
There is no doubt that naloxone saves lives "so, from that perspective, the benefits greatly outweigh the risks," said Tsai.
"From a population health perspective, within the context of the opioid epidemic, it's something that we want to make available as readily as possible," said Tsai.
An average of 115 Americans die each day from opioid overdoses, according to the Centers for Disease Control and Prevention. That adds up to more than 42,000 people in 2016 alone.  
"In places that have been really hard hit by the opioid epidemic, I would think the goal is to make it as at least as readily available as AED (Automated External Defibrillator) devices," said Tsai.
If a person overdoses, they will not be able to administer naloxone to himself so Tsai said "it's important that people, not only people who are at risk themselves have access to naloxone, but also their friends and families," he said.
"I don't see a lot of concern with having the medication being more widely available," said Tsai.