Locate a Halfway House by State
Enter a keyword or state for more information about a Halfway House program!
Learn about:
What to expect in a Halfway House
Benefits of Halfway Houses
Types of Halfway Homes
Top programs
What to expect in a Halfway House
Substance abuse statistics
How to maintain sobriety

When you've detoxed from drugs and been through drug rehab, it can be difficult to integrate yourself back into society. For some people, returning to their former homes and friends also means facing some of the issues and temptations that fueled their drug problems in the first place. If your goal is to stay sober even after you've completed drug rehab, a halfway house may be a good option. Read on to learn more about halfway houses and learn if a halfway house is right for you.
What is a Halfway House?
Often times, people who were incarcerated on drug charges or went through drug rehab while incarcerated may face problems when they are released. Relapse and recidivism are common when a person doesn't have the support or resources necessary to make a smooth transition. A halfway house is a living space that's designed to help people transition from incarceration and drug treatment programs back into society. Sometimes, these types of homes may be sponsored by the state.
Halfway houses differ from sober living houses because they are specifically targeted at people who were formerly incarcerated. Though it isn't necessary to have been incarcerated to live in a halfway house, some of the resources they offer are aimed at this particular population. A halfway house usually requires its residents to be either enrolled in treatment or to have recently completed a treatment program. Sometimes, there is a limit to the amount of time you can live at a halfway house meaning that you should be actively seeking out another residence while living there.
While in a halfway house, people will get support from other residents while they get back on their feet, find a job, make friends, and start a new, sober life. One of the most important things to remember is that halfway houses require that you maintain sobriety while living there. If you are caught possessing or using drugs, you will likely be kicked out, resulting in homelessness for some. Knowing that their housing situation is contingent on remaining sober, residents of halfway houses are better able to resist the temptations of drugs.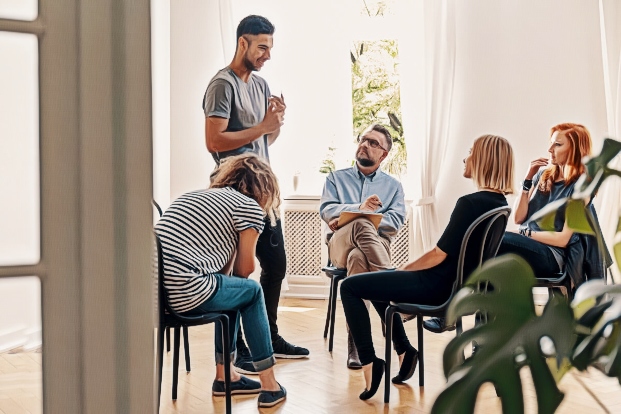 Those who were formerly incarcerated or in rehab likely got used to rigidly structured schedules. They were told what to do, where to go, and when to do things. The outside world has much less structure and offers much more freedom, which causes some people who are trying to remain sober to relapse. A halfway house provides a better balance between the structure of incarceration and the freedom of the real world.
Halfway House
While most of the residents of a halfway house are usually people who were formerly incarcerated, this isn't necessarily a requirement. As long as you're committed to staying sober and participating in a recovery program, a halfway house could be a treatment option for you. There are plenty of reasons why a halfway house is a good choice for someone who is struggling to maintain sobriety. Some of the biggest benefits include:
Structure and support – when you live in a halfway house, you will be joined by other residents who may be at different stages in their recovery journey. They can offer you help, advice, and a safe place to talk when things get rough. You'll still most likely be required to attend recovery meetings so you can continue to build your skills and become a productive member of society. While this doesn't offer the same rigid structure that prison or rehab did, it allows you to slowly transition towards a life with more freedom.
Helpful rules – in addition to maintaining sobriety while living in a halfway house, many halfway houses have additional rules. You usually must contribute to household chores, be respectful of other residents, stick to a curfew, and seek employment while living there. At first, the rules may seem restrictive, but they are aimed at helping you prepare for the real world and life once you leave the halfway house. The halfway house you choose to live in may have additional rules or guidelines.
The freedom to grow – a halfway house is a good opportunity to explore more about yourself and continue to grow as a sober person in recovery. You can learn helpful coping skills and how to regulate your emotions and choose healthier outlets for stress or anxiety instead of turning to drugs or other destructive habits. You can live a life without drugs, hold down a job, maintain healthy relationships, and feel positive emotions.
A path to long-term recovery – while living in a halfway house, you are taking the first step towards long-term recovery. Even if you're still newly sober, this step shows your commitment to healthy living.
For the most part, halfway houses may limit how long you can stay there. You can expect to reside in a halfway house for between three months and a year. During that time, it's your job to secure income and a place to live once you move out.
Halfway House Near Me
Finding a halfway house near you can have a few positives. If you have family nearby, you can get support from them during your recovery. You can also relearn to associate with the places that were once triggers for your drug use. If there were certain people you used drugs with, certain places you used drugs often, or certain situations where you felt you needed to use drugs, you can face these head-on with a halfway house nearby. You can forge more positive relationships with these people and places so that you don't feel like it's necessary to turn to drugs.
If you've wondered, "where can I find a halfway house near me?" our site can help. Our directory contains hundreds of listings that will help you find a halfway house or sober living home in your area, so you can be close to the support of your friends and family. When you choose a halfway house nearby, you already know the town or city, making it easier to secure a job and a permanent residence once you leave the halfway house.
Halfway houses are a great opportunity to transition yourself back into society slowly so that you have a greater chance of staying in recovery. If you've tried to quit drugs on your own, attended rehab or relapsed, or have been incarcerated, a halfway house might be right for you. This time, as you enter recovery, you want it to stick, and a halfway house can help.