Locate a Sober House by State
Enter a keyword or state for more information about a Sober Living program!
Learn about:
What to expect in Sober House
Benefits of living in a Sober Home
Types of Sober Houses
Top Sober Home programs
What to expect a Sober House
Substance abuse statistics
How to maintain sobriety

Recovery from drug and alcohol addiction is a lifetime commitment. While individuals suffering from addiction often begin their recovery through detox and rehabilitation programs, reintegration into society can be a challenge. In fact, exposure to conditions that support addictive behavior can quickly send recovering addicts into a relapse. It is therefore critical that recovering addicts have access to a stable alcohol- and drug-free living situation. Sober living houses provide a safe environment with supportive social structure that encourages addicts to continue a healthy, safe lifestyle.
A 2010 study published by the National Institute of Health analyzed the effectiveness of sober house living for individuals recovering from drug and alcohol addiction. It found that the majority of individuals who lived in sober housing showed significantly reduced drug and alcohol use at 6, 12, and 18 months from the date that they entered the program. These results were consistent even for participants who left the sober house during the study to return to their daily lives. In addition, the study found that participants were better able to maintain employment and psychological health, and experienced fewer arrests after completing their sober house stay.
What is a Sober House?
A sober living house is a home shared by individuals who wish to maintain abstinence from drugs and alcohol. They are typically incorporated into recovery strategies in to reduce the potential for a relapse after clinical rehabilitation. Typically, sober houses incorporate recovery plans such as the 12-step program. Unlike a rehab clinic, a sober house is usually in a residential area, in order to allow recovering addicts to integrate back into the community. While they do not maintain the same level of structure and medical support as a rehab facility, sober houses establish strict guidelines regarding sobriety in the household, meeting attendance, and group support.
Fundamentally, sober houses operate as a transitional setting between rehab and a return to the community at large. Transitional facilities allow addicts to slowly acclimate to society while providing sufficient support and structure to keep them from falling into old habits or succumbing to relapse triggers. Although they may be incorporated into treatment, sober houses are not state funded, and the resident is typically required to pay for rent and expenses during their stay.
What to Expect in a Sober House
Residents in a sober house enjoy a greater degree of independence than in rehab facilities. Unlike inpatient treatment centers, sober houses allow residents to come and go as they like. This allows them to reestablish daily routines and take on more responsibilities at a comfortable pace. As a resident of a sober house, each individual is expected to contribute to the household, and will often have a job to cover rent and expenses.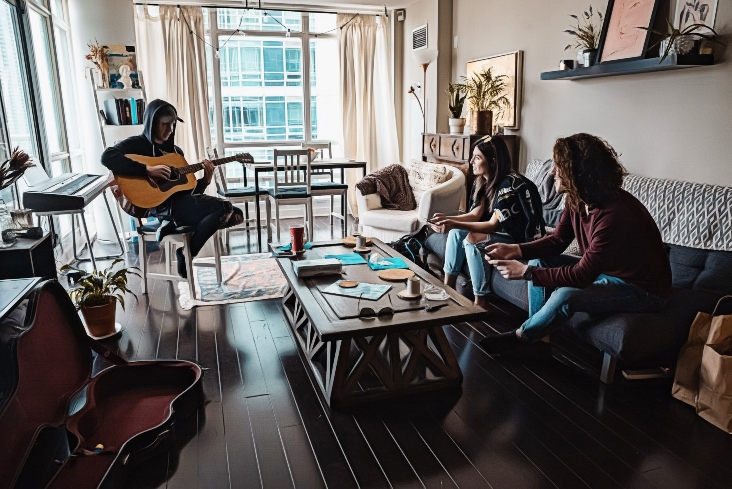 A normal day in a sober house will usually entail basic chores, such as making your bed, preparing breakfast, or cleaning. The morning routine will typically be followed by a meeting with your housemates, therapist, or recovery program. If you do not have a job, you may spend your day job hunting, studying, or performing community service. Residents who are employed will go to work in accordance with their work schedule. In the evening, you will eat dinner and meet with your housemates in support groups. The rest of the evening will be yours to do as you like, whether it's watching a movie or talking to friends and family on the phone.
While many aspects of living in a sober house are similar to living in a normal home, the additional structure and support offered by other residents and administrators helps recovering addicts avoid feelings of isolation and establish positive social patterns that reinforce sober living in mainstream society. In order to reinforce the sense of stability, sober houses also have rules that residents must follow, including curfews, sobriety, and meeting attendance.
Sober House
Although sober living homes are less restrictive than inpatient facilities, they still have rules that residents must abide by. Each residence is different, so it is important to consider the rehabilitation and recovery plans for each individual to ensure that the sober house and person in recovery share the same values and goals. While each sober home has its own unique approach, most sober houses will have the following rules in common:
Sobriety: Sober houses generally maintain a strict sobriety policy, which means no drugs or alcohol. It is not permitted for alcohol or non-prescription drugs to be stored in the home, and members of the home who are recently out of recovery may be accompanied by a member of the house whenever they leave, to provide support and assistance.
Drug Screening: To ensure that members are adhering to strict sobriety policies, they must often agree to random drug screening.
Meeting Attendance: Members of sober houses are generally expected to attend regular house meetings as well as any meetings related to their recovery, including 12-step meetings and appointments with a counselor or therapist.
Curfew: To provide structure and prevent potential lapses, most sober houses enforce a strict curfew time in the evening. Members may be expected to sign in and out whenever they leave, in order to ensure that they are adhering to the curfew requirements.
Chores & Responsibilities: As a member of the sober household, each resident is expected to pitch in and help around the house. There will often be a schedule or calendar that indicates which chores each member is expected to complete and when.
Sober Living Near Me
Sober housing can be a critical step on your road to recovery. The support and structure offered by sober homes is proven to help recovering addicts form healthy habits and coping mechanisms, allowing them to create connections, build confidence, and establish tools to help ensure a lifetime of sobriety. If you or a loved one is in recovery and looking for a sober house, help is nearby! If you ever need help looking for a sober living near me, check our site directory for hundreds of sober living homes in your local area that can help you stay on the path to a sober and healthy life.