Locate Transitional Housing by State
Enter a keyword or state for more information about a Transitional Living program!
Learn about:
What to expect in Transitional Housing
Benefits of Transitional Living
Types of Transitional Housing programs
Top Transitional Living programs
What to expect in Transitional Housing
Substance abuse statistics
How to maintain sobriety

What is Transitional Housing?
For patients who are in recovery programs following drug and alcohol addiction, safe and affordable housing is a critical component of the recovery process. Although individuals who have completed detox and rehab programs may be clean when leaving the medical facility, it is important for them to have housing options that allow them to continue the recovery process. The transition from the structured day-to-day life in rehab back to unstable housing can make it difficult for an addict to stick to their recovery plan. Without safe housing, they may be unable to meet with their counselor or therapist, attend 12-step meetings, connect with supportive friends and family, or avoid other circumstances that could trigger a relapse.
Fortunately, there are a variety of housing options and grant programs available for people recovering from addiction who are experiencing housing insecurity. Transitional housing programs help individuals establish a safe, stable home by providing temporary residence and a range of recovery support services. With transitional housing, addicts with housing insecurity are better able to move forward with their recovery process and establish plans for a happy, sober, and healthful lifestyle in the future.
Transitional Housing
Although addiction may be part of the reason that individuals experience homelessness, a variety of factors can result in housing insecurity, including financial difficulties, mental and physical health problems, domestic abuse, violence, trauma, eviction, divorce, natural disaster, consequences of legal judgment, or death of a close family member. Transitional housing aims to provide comprehensive assistance that allows residents to cope with these difficulties and move forward into a more healthy and safe lifestyle. For individuals specifically recovering from addiction to drugs or alcohol, transitional housing offers a means of establishing a stable, sober existence with a combination of affordable housing and substance abuse recovery programs and services.
Transitional Living
Through a variety of federal, state, and local programs, individuals in recovery can be placed in temporary housing for up to 24 months. These programs offer a variety of support services to help residents with everything from addiction recovery to employment searches, mental health treatment, and disability support. The goal of transitional housing is to prepare residents to transition back into mainstream society. Since every person's needs are different, it is important to choose housing programs that offer appropriate assistance. Common services in transitional living programs include:
Transition planning assistance and long-term goals
Drug and alcohol recovery programs, such as the 12-step program, Narcotics Anonymous, and Alcoholics Anonymous
Financial education, money management, budgeting, and establishing credit
Basic life skills, such as cooking, cleaning, and responsible shopping
Job search assistance, resume building, and communication skills
Educational program assistance, including GED, Associate, and Bachelor programs
Physical and mental healthcare, counseling, and therapy
Family counseling, couples counseling, and parenting skills
Depending on the needs of the individual and the house as a whole, transitional living services can be adapted and modified individually to ensure that residents receive the support they need to succeed in their transition.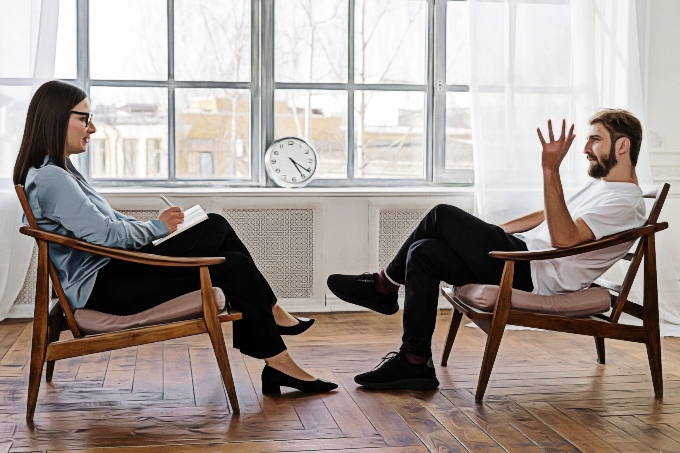 What to Expect in Transitional Housing
In transitional living programs, support and personal development methods and resources can differ widely. For individuals recovering from drug and alcohol abuse, recovery housing is ideal. Unlike some other transitional housing options, recovery housing is specifically focused on assisting former addicts in their recovery process. The level of support and oversight varies depending on the establishment. While some locations may be organized around peer management, others may offer more structure, with various sign-out policies, curfews, required meetings, and random drug testing. Other programs may require that residents be accompanied by a peer or senior house member when they leave the residence, in order to offer support and help the recovering individual resist the temptation to relapse.
Despite their differences, all transitional homes for residents in drug and alcohol recovery are characterized by drug- and alcohol-free living spaces. Although similar to halfway houses and sober houses, transitional housing tends to be more rigidly structured, and often serves as the first point of transition after rehab. To ensure that patients are able to transition smoothly from the highly controlled rehab environment, they are provided with 24-hour support and guidance. The program allows them to begin using the tools and skills they learned in rehab to handle stress, frustration, anger, and sadness while providing them with critical structure.
Over time, the resident is given increasing levels of freedom, such as unsupervised time with friends and family. Upon returning to the facility after unsupervised time away, residents are drug tested, and provided they are clean, they are allowed to enjoy more activities without supervision. Transitional housing typically mandates strict curfews, and residents who are permitted to leave the premises unsupervised must notify staff of their whereabouts and sign back in upon their return. House rules generally require regular attendance at recovery meetings, such as 12-step programs. Transitional housing programs also help residents get involved in their local community, find a job, and establish support networks that will help them stay sober and healthy after transitioning back to daily life.
Transitional Housing Near Me
The path to full addiction recovery is a long one, and rehab is only the beginning. For individuals recovering from drug and alcohol addiction, a stable living environment can mean the difference between a healthy, sober life and a relapse into addiction. A comprehensive 2011 study published by the National Institute of Health established that affordable housing and structured support systems are crucial to helping recovering addicts stay sober. For this reason, a wide variety of programs and resources have been established to help recovering individuals find stable, dependable housing.
If you or someone you know is in recovery and suffering from housing insecurity, help is available! Visit our directory to find a transitional living program that can offer you the support you need to get back on your feet and live a successful, sober life. There are a wide variety of resources from recovery programs to sober houses and transitional housing options. We understand that everyone has different needs, which is why we have hundreds of resources to help you find the best solution for your particular needs right in your area.